I found the report, "How the media is covering ChatGPT: The Tow Center looked at how news organizations have been covering generative AI over the past six months," and finished it immediately upon clicking the page. This article appears in Columbia Journalism Review, which is super specific to writers who work in communications and mass media and like to study and discuss the trade (AKA me, and idk maybe should I pledge to become a member??). In the report on media coverage of ChatGPT for Columbia Journalism Review, Jim Bartholomew and Dhrumil Mehta uncovers the term "Hype Cycle" in an interview with Felix M. Simon, a doctoral researcher at Oxford Internet Institute and Tow Center fellow.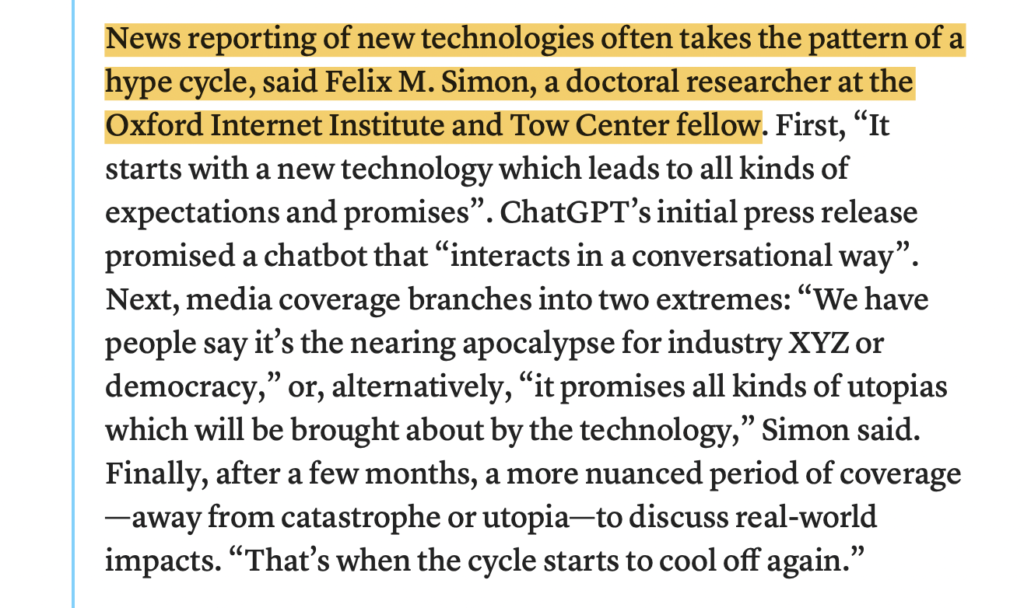 Since the 2016 election cycle, I have remembered getting swept into reading and discussing various "hype cycles" in the news. Sometimes I like to pause and reflect in the cycle, maybe even develop a fun, little obsession over a sensational news story, like with the Anna Delvey blog— other times I may become jaded and overwhelmed as I lose interest in it and let it pass till we can start to discuss the next hype cycle. I feel relieved that there is a term for it ("Hype Cycle" is the perfect choice of words), and the article even shares a few suggestions, including laying some ground rules in your publication's style guides, of what different newsrooms can do to avoid reader fatigue.

In White Lotus, Portia tells her new friend, Albie, over dinner: "I just feel like I just wanna meet someone who's like you know, totally ignorant of the discourse. You know?"
I'm not saying anything about Bitcoin nor ChatGPT here, which I could in another post if I wanted to (you probably don't want me to), but the way we write and discuss these topics feel eerily similar, don't they?